My apple trees are back in stock! Available in non tarnish silver or brown, these adorable tree of life wire wrapped pendants have peridot leaves and ruby red jade apples. Too cute!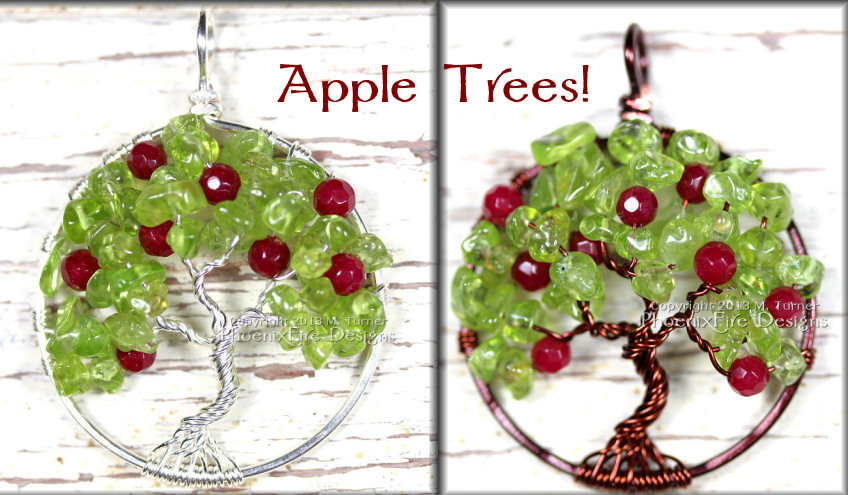 No forbidden fruit here! This adorable Apple Tree Pendant features genuine Peridot Gemstone leaves with faceted ruby red jade round apples set in sterling silver plated wire.
The Tree of Life is a concept that's been featured in myth, story and legend literally all around the world. Since ancient times, people have used variations on the theme. Connecting all things – the realms of the spirit, the physical, the Divine and the mundane – the roots of the Tree and the branches touch all things and bring them together in harmony.
The leaves are made from genuine Peridot gemstone. Peridot is a natural, semi-precious gemstone in the most amazing green color. The birthstone of August, it has been considered sacred and a symbol of purity for thousands of years. It was considered a stone of Springtime and a gift of Mother Nature by the Ancients. It is a stone of lightness and beauty and is said to enhance wellness in the spiritually aware. Peridot does have natural, minor inclusions but this is just part of the character of the stone.
The apples are made from 4mm faceted jade beads. This is known as "candy jade" and is dyed to achieve uniform, deep, rich color. It makes perfect apples and the color really pops with the bright, Spring green of the Peridot.
Apple trees always remind me of Autumn as a child growing up in rural, Western Pennsylvania. My uncle had a farm and an apple orchard. Each year, my Mom would climb the trees and toss apples down to me to gather in laundry baskets (which always did double duty during harvest season!) Nothing was every better than an apple fresh from the tree on a crisp, fall day!