Multi Color Natural Opal Gemstone Tree of Life Pendant
Natural saucer opal in multiple colors (including blue opal and moss opal) form the leaves of this Tree of Life pendant wire wrapped in Sterling Silver.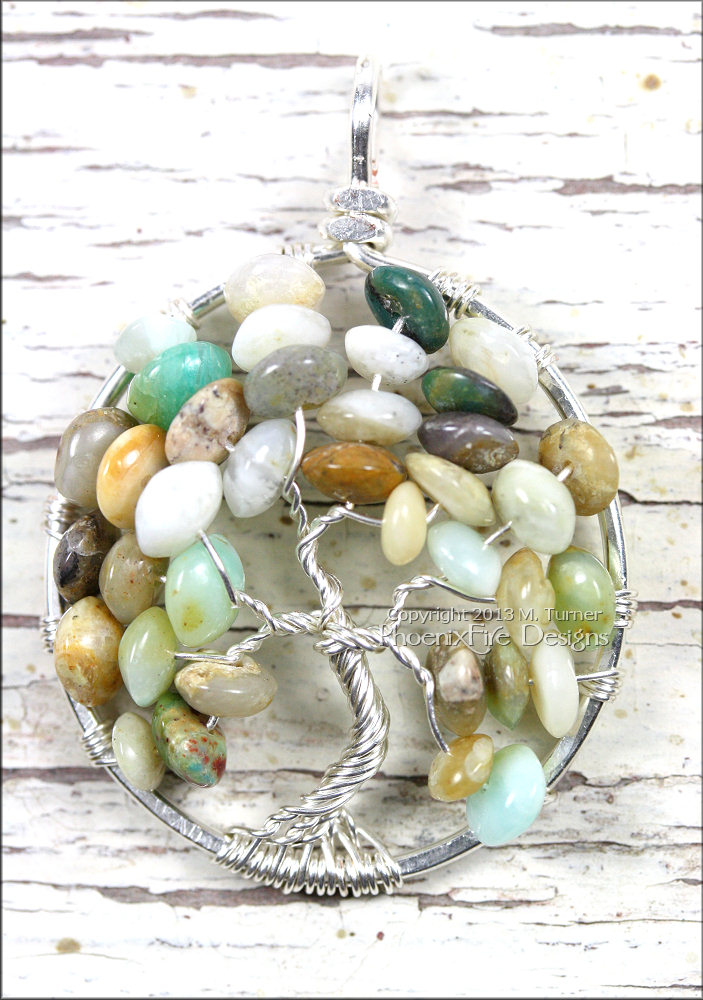 The Tree of Life is a concept that's been featured in myth, story and legend literally all around the world. Since ancient times, people have used variations on the theme. Connecting all things – the realms of the spirit, the physical, the Divine and the mundane – the roots of the Tree and the branches touch all things and bring them together in harmony.
This pendant is handmade using painstaking wire-wrapping techniques. Hand hammered sterling silver plated wire frames and encircles the pendant, and then sterling silver plated, non-tarnish wire is used as the roots, trunk and branches of the tree.
Natural, hand cut saucer shaped opal gemstones are used in this piece. It's an assortment including blue opal and moss opal. With a very earthy, woodsy feeling, these gems range in colors from opaque whites, through pale beige, into soft green and browns. There are even a few bluer stones mixed in as well.
The Opal derives its name from the Latin word "opalus," meaning precious jewel. It is one of the birthstones for October.
Slightly oval in shape, it measures approximately 1.25″ in height and just slightly less than that in width. (not including bail) It's a lovely size both for everyday and special occasion wear. You will receive the exact pendant pictured.