Peridot Tree of Life Earrings
This pair of dainty Tree of Life earrings features genuine, natural Peridot gemstones and hangs on .925 sterling silver French ear wire hooks. Miniature tree of life pendants!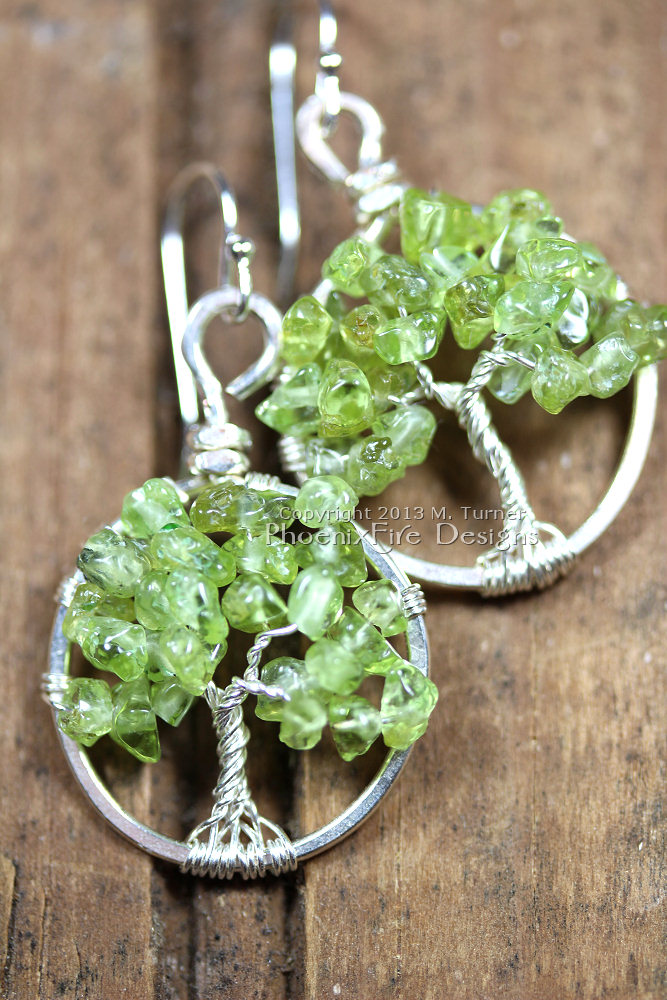 The Tree of Life is a concept that's been featured in myth, story and legend literally all around the world. Since ancient times, people have used variations on the theme. Connecting all things – the realms of the spirit, the physical, the Divine and the mundane – the roots of the Tree and the branches touch all things and bring them together in harmony.
These earrings are handmade using the same painstaking wire-wrapping techniques as my larger pendants – but in miniature scale! Tarnish resistant sterling silver plated wire frames and encircles the pendant and is then used as the roots, trunk and branches of the tree. The French ear wire hooks are solid .925 sterling silver.
Peridot is a natural, semi-precious gemstone in the most amazing green color. The birthstone of August, it has been considered sacred and a symbol of purity for thousands of years. It was considered a stone of Springtime and a gift of Mother Nature by the Ancients. It is a stone of lightness and beauty and is said to enhance wellness in the spiritually aware. Peridot, while possessing a uniquely vivid tone of green has some natural variation in it
Total length is approximately 1.5″ long including ear wire.
Available for purchase HERE.