Shaded Ombre Emerald Tree of Life Pendant
Stunning shaded ombre emerald rondelles in silver wire make up this handcrafted, wire wrapped Tree of Life Pendant featuring May's precious gemstone birthstone.
The Tree of Life is a concept that's been featured in myth, story and legend literally all around the world. Since ancient times, people have used variations on the theme. Connecting all things – the realms of the spirit, the physical, the Divine and the mundane – the roots of the Tree and the branches touch all things and bring them together in harmony.
This pendant is handmade using painstaking wire-wrapping techniques. Hand hammered non-tarnish sterling silver plated wire frames and encircles the pendant, and is used as the roots, trunk and branches of the tree.
Emerald is one of only four rare, precious gemstones in the world (along with Ruby, Diamond and Sapphire.) A member of the beryl mineral family, emeralds have been prized since ancient times and a quality emerald commands more value than even a diamond! Traditionally, emeralds are worn to promote healing and enhance love and contentment.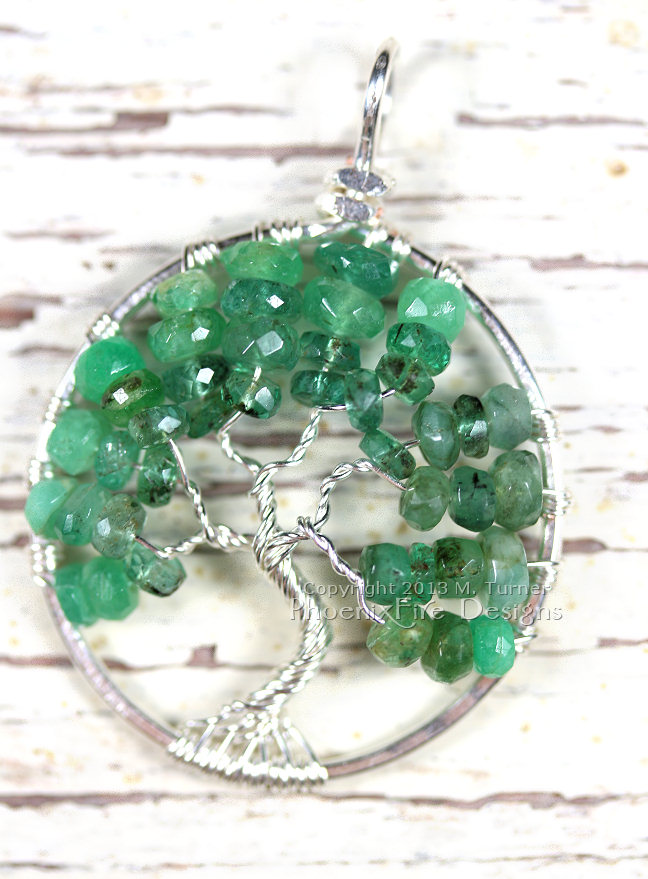 The emeralds used in this piece are 100% natural gemstone, grade A+ Micro faceted rondelles. Artfully arranged in a cascading ombre of forest green, olive green and evergreen, these emeralds give the full range of stunning color.
Measuring approximately 1.25″ in diameter (not including bail), it's a lovely size both for everyday and special occasion wear. You will receive the exact pendant pictured. I exhausted the entire supply of this premium, luxe gemstone on this piece so if you love it, snag it while you can!
A lovely gift for someone who is born in May or who loves the finer things in life. It doesn't get much more amazing then precious Emeralds!
Every piece of PhoenixFire Designs jewelry is an original. Handmade by me for you!
Available for purcahse HERE.