Copper Tree of Life Agate Cabochon Necklace
A multicolor cabochon agate is encircled in copper and a tree of life pendant is wire wrapped on the surface forming this beautiful, natural necklace. On 18″ chain.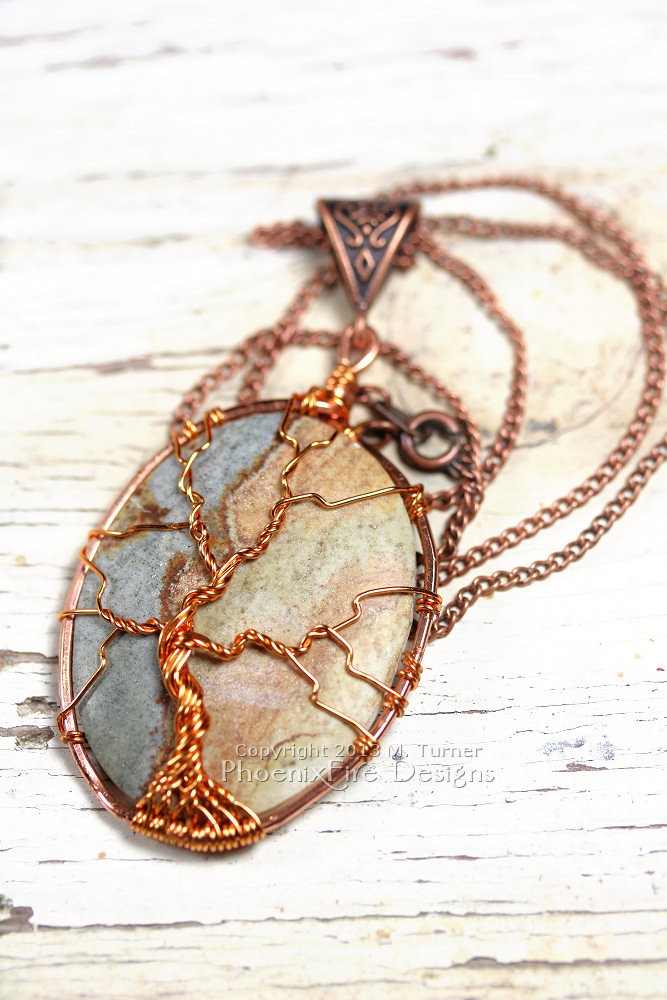 The Tree of Life is a concept that's been featured in myth, story and legend literally all around the world. Since ancient times, people have used variations on the theme. Connecting all things – the realms of the spirit, the physical, the Divine and the mundane – the roots of the Tree and the branches touch all things and bring them together in harmony.
This pendant is handmade using painstaking wire-wrapping techniques. Tarnish resistant, copper wire encircles the pendant, and is then used as the roots, trunk and branches of the tree. This tree is nearly bare of leaves and is growing up the side of the gorgeous multicolored agate cabochon.
The agate has so many lovely tones in like warm, sandy tans, through peachy tones and into a cornflower turquoise blue. There are also natural striations of darker brown running throughout like dry river beds. It reminds me of the desert to me with it's amazing range of tones.
The total size of the pendant is approximately 2.75″ tall including the Celtic design bail. It comes on an 18″ antique copper chain.