Large Natural Rainbow Moonstone Full Moon Tree of Life Pendant
For years, I've offered my Opalite Moonstone Full Moon Tree of Life Pendant. It's been amazingly popular in my shop.
But a lot of people prefered natural rainbow moonstone, so I added a natural rainbow moonstone full moon tree in silver and natural rainbow moonstone full moon tree in black wire.
The problem was, they were smaller. I couldn't get any natural rainbow moonstone round coin beads larger than 10mm, so I scaled the trees down to keep the same moon-to-tree ratio.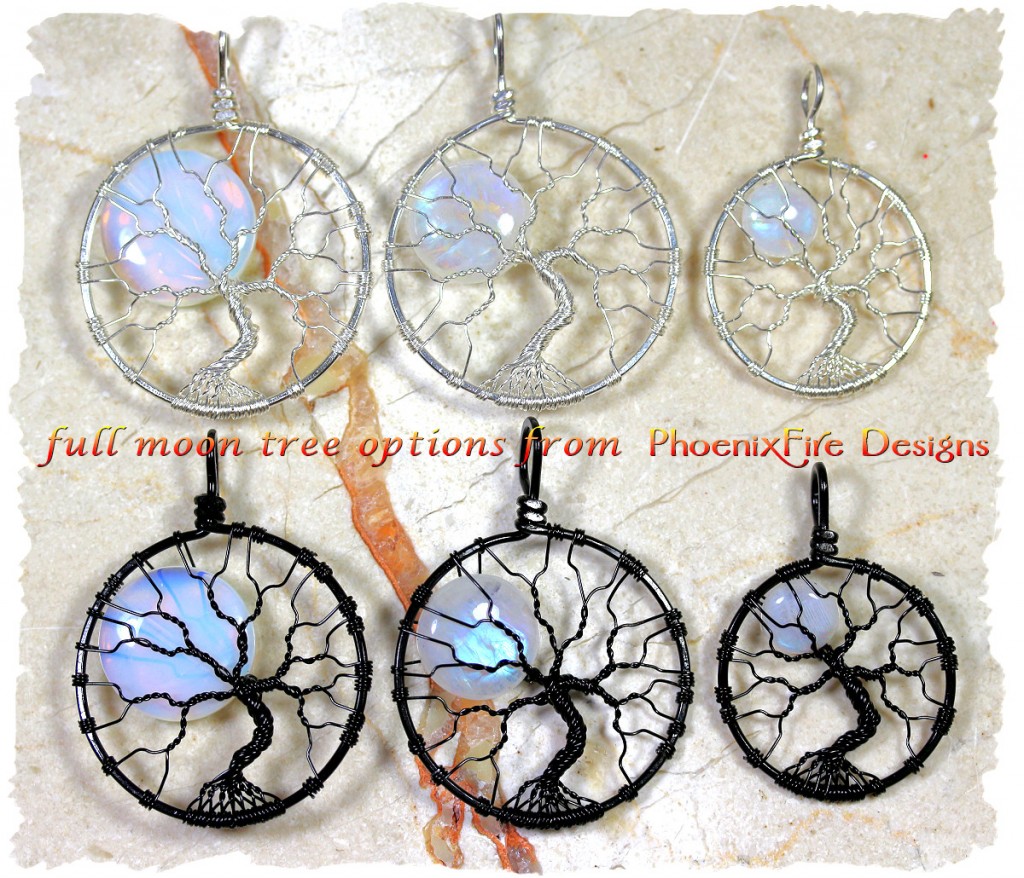 But recently, I was able to work directly with a lapidary in India and have some amazing blue flash natural rainbow moonstone puff round coin beads made just for PhoenixFire Designs in a whopping 16mm size!! This allowed me to size back UP to the larger 1.25″ (38mm) frame tree!
I am able to offer it in both my popular permanently colored black wire (over copper core) AND, because such a luxurious piece deserves something special, solid Argentium sterling silver wire!

Argentium wire is really amazing.
93.5% solid silver – exceeding requirements for the "sterling silver" designation
Bright white color close to the look of "fine" (99.9%) silver
Almost fully tarnish resistant!
100% nickel free (perfect for people with metal allergies!)
All Argentium is made from reclaimed silver and its sources are guaranteed by Argentium International Ltd.
Rainbow moonstone is an amazing stone. The stone is a milky white but comes "alive" with iridescent fire and a color shift towards blue in various types of light. Moonstone is of course associated with the Moon and with the Goddess Diana. It's a powerful stone said to protect those of a sensitive nature and bring good emotions to the wearer. Because of it's tie to emotions and the moon, it's said to be a woman's gemstone.
I have a limited stock of this amazing gemstone on hand and you can purchase yours in sterling or black here in the PhoenixFire Designs etsy shop.
And don't forget to LIKE PhoenixFire Designs on Facebook to keep up with new releases, custom orders, sales, coupons and giveaways!