Happy Halloween! This Spooky Tree of Life Pendant with bare branches in black wire under a full, orange moon. Perfect for the season but wearable all year also.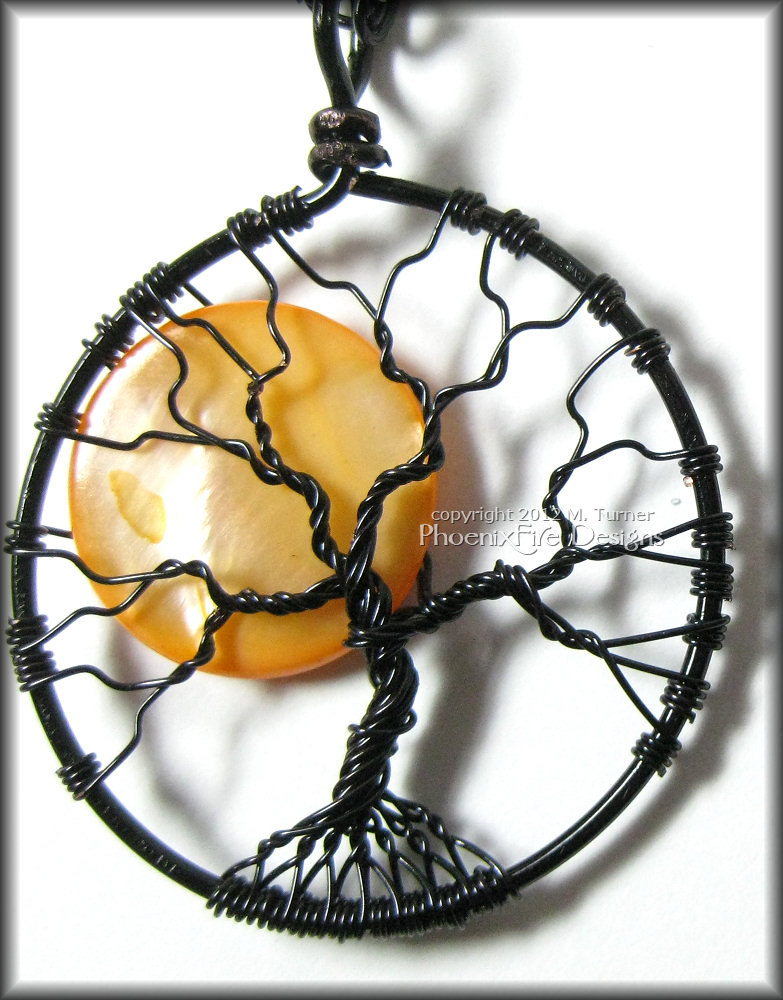 The ORIGINAL (and best) Halloween Full Moon Tree! Winner of Artbeads.com Jewelry Design Star contest!
The Tree of Life is a concept that's been featured in myth, story and legend literally all around the world. Since ancient times, people have used variations on the theme. Connecting all things – the realms of the spirit, the physical, the Divine and the mundane – the roots of the Tree and the branches touch all things and bring them together in harmony.
This pendant is handmade using painstaking wire-wrapping techniques. Permanently colored black wire frames and encircles the pendant, and is then used as the roots, trunk and branches of the tree.
This tree is bare of leaves like one would see in late Autumn and features a large, dyed, iridescent orange pearl round disk "full moon" behind the branches. This piece has a very mystical feeling to me and a stillness to it as well. It makes me think of a full moon at Halloween – or "All Hallow's Eve" as it was once know. A night when witches stir their cauldrons and all sorts of magic is afoot!
It's approximately 1.5″ in diameter and can be worn on any cord or chain of your choice through the large, .25″ bail at the top.