Crescent Moon Black Wire Tree of Life Pendant
A mother of pearl crescent moon peeks out from behind the black wire branches of this handmade wire wrapped tree of life pendant like a lunar eclipse in the night sky.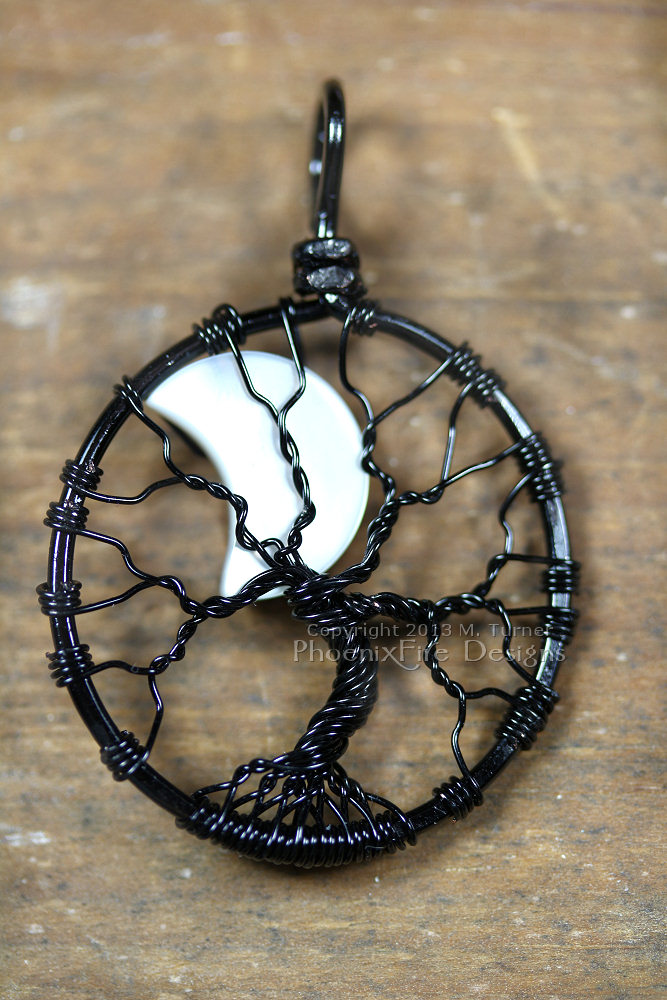 The Tree of Life is a concept that's been featured in myth, story and legend literally all around the world. Since ancient times, people have used variations on the theme. Connecting all things – the realms of the spirit, the physical, the Divine and the mundane – the roots of the Tree and the branches touch all things and bring them together in harmony.
This pendant is handmade using painstaking wire-wrapping techniques. Permanently coated black wire (over copper core) wire encircles the pendant, and is then used as the roots, trunk and branches of the tree.
This tree is bare of leaves like one would see in Autumn or Winter and features natural "black lip" mother of pearl shell. These very lovely beads are entirely cut and shaped by hand from natural shells. Each piece has a slightly different range of color and it's own natural iridescence. This one has a striking white pearlescence to it.
The pendant measures approximately 1.25″ in diameter not including bail.
Available for purchase HERE.