Four Season Tree of Life Earrings
Miniature Four Season Tree of Life pendant earrings features peridot, green aventurine, red carnelian and rainbow moonstone and hang on .925 sterling silver ear wire hooks.
The Tree of Life is a concept that's been featured in myth, story and legend literally all around the world. Since ancient times, people have used variations on the theme. Connecting all things – the realms of the spirit, the physical, the Divine and the mundane – the roots of the Tree and the branches touch all things and bring them together in harmony.
These earrings are handmade using the same painstaking wire-wrapping techniques as my larger pendants – but in miniature scale! Tarnish resistant sterling silver plated wire frames and encircles the pendant and is then used as the roots, trunk and branches of the tree. The French ear wire hooks are solid .925 sterling silver.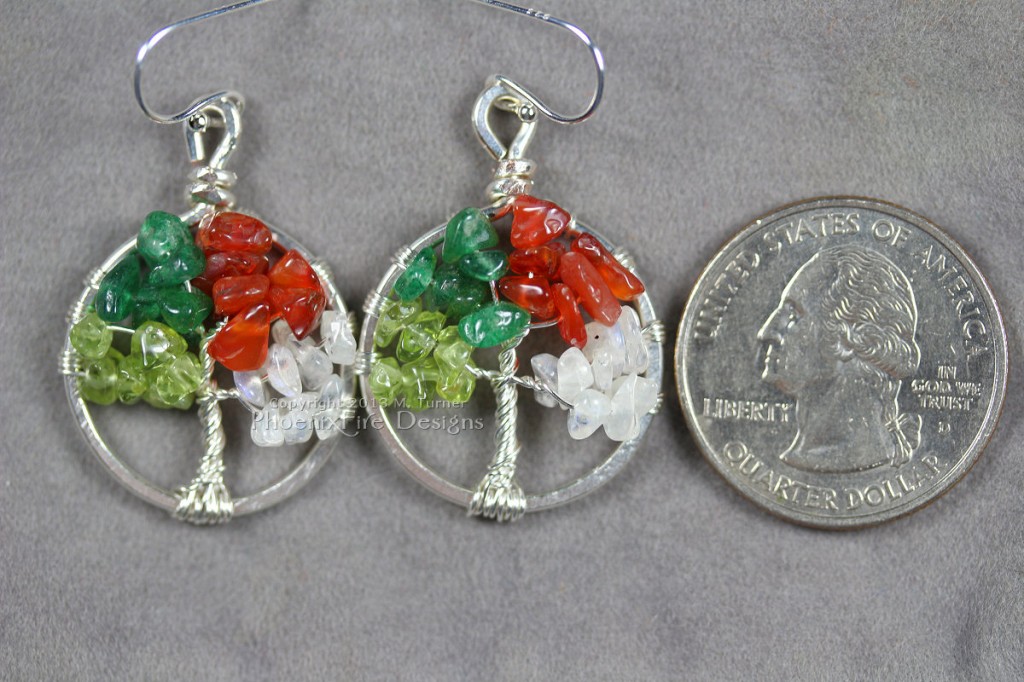 There are four natural gemstones that make up these earrings to represent the four seasons: Spring/Peridot, Summer/Dark Green Aventurine, Autumn/Red Carnelian, Winter/Rainbow Moonstone
These earrings are a beautiful representation of the Wheel of the Year and would be a wonderful gift for anyone who is attuned to the seasons such as Wiccans, Witches, Pagans and other Earth-lovers or truly anyone who simply loves the beauty of each season!
Total length is approximately 1.5″ long including ear wire.
Available for purchase HERE.