Game of Thrones Inspired Dire Wolf Tree of Life Pendant
Inspired by the books and hit HBO series, this "Game of Thrones" tree of life features a dire wolf head clutching natural garnet gemstones wire wrapped in gunmetal. On 18″ chain.
The Tree of Life is a concept that's been featured in myth, story and legend literally all around the world. Since ancient times, people have used variations on the theme. Connecting all things – the realms of the spirit, the physical, the Divine and the mundane – the roots of the Tree and the branches touch all things and bring them together in harmony.
This pendant is handmade using painstaking wire-wrapping techniques. A metallic grey/black gunmetal (hematite) color wire frames and encircles the pendant, and is then used as the roots, trunk and branches of the tree. Genuine, natural garnets are used as the leaves of the piece.
Garnet is a natural, semi-precious gemstone associated with the planet Mars, the zodiac sign of Aquarius and the birthstone of the month of January. Considered the stone of good luck in business, it's also said to increase your self-esteem when worn as jewelry. It's also the stone associated with the first chakra (base of the spine.) It's rich, deep and intense color is unique and beautiful.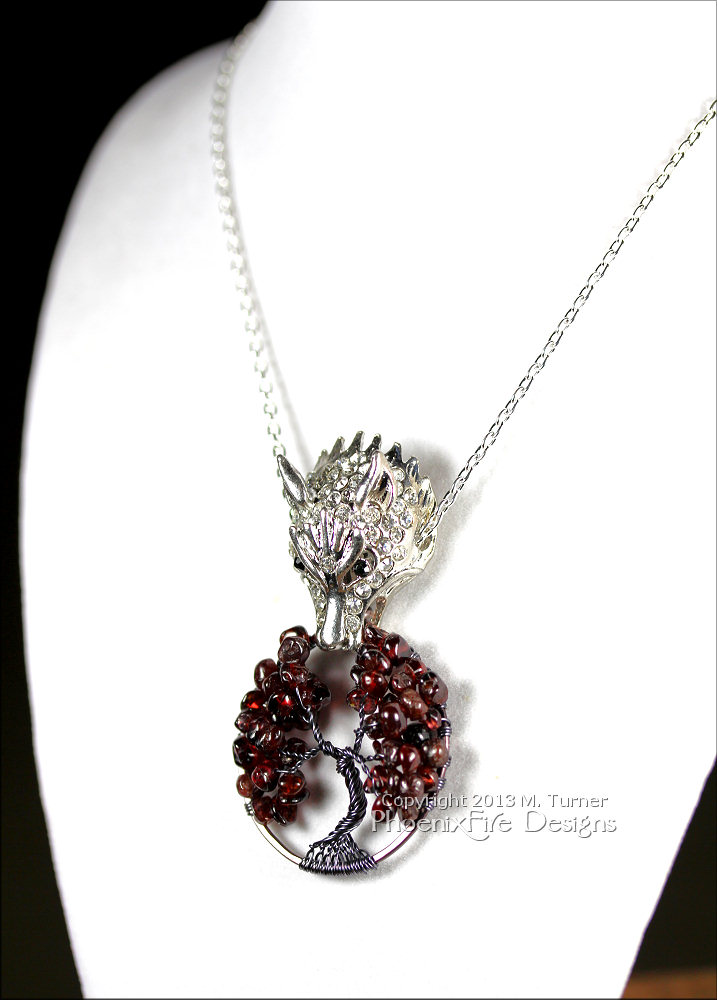 In A Game of Thrones, House Stark uses a dire wolf as it's symbol. I've celebrated that style and heraldry with a large wolf head charm. The wire of the tree's outer circle passes through the wolf's mouth and the head is decorated with clear crystal rhinestones like ice and black crystals for eyes. A sterling silver plated chain
The total size of the tree and wolf is approximately 2.5″ long and 1.5″ at the widest point. The chain measures 18″ and is finished with a lobster claw clasp.